Newport Folk Festival is the "income-producing event" for the Newport Folk Foundation.
In word and indeed.
Originally created as a commercial concern in 1958 by George Wein and his business partner, Albert Grossman, beating it into a workable shape took almost a year, though by 1959, the Newport Folk Festival was ready for action. Concerts were to be held within the city limits at Newport's Freebody Park, with workshops cluttering the grounds of what was then known as The Casino (in name only -- it was a lawn tennis court, and now home to the International Tennis Hall of Fame) -- it was spread over two days (July 11th and 12th), and was the year Bob Gibson brought up the eager-to-perform Cambridge amateur, Joan Baez, during his set. With a roster of about 28 performers, it closed the weekend in a meteorological soaking as well as a financial one -- the only people enriched were the fans. Unusually for the time, recording rights to the whole festival were put up for bids, with the high-bidder, Vanguard Recording Society, producing three LPs to document the event, which, while never topping the charts, never lost money either, though when combined, the sales of the first three probably rocketed into the low double-digits.
The Festival's

1960
return to Freebody Park (a Victorian park completed in 1897 to allow for the

playing of baseball, and quickly modified with an open-air Vaudeville theatre in 1902), was upped to three fun-filled days and nights, running from June 24th through the 26th. This time around, the festival featured about 32 performers (with Baez not only an
invited
performer, but also the only performer to be given two consecutive evening concert spots) and produced two LPs from Vanguard. One of refreshing signs of the times was that Vanguard had won the recording rights not only by a show of cash, but also by showing a good set of manners -- according to
Sing
Out!
, their agreement allowed other companies to use and issue any taped performances not used by Vanguard on their LPs (company president Maynard Solomon's bid having been accepted when his main rival had suggested a willingness to "bury" any unused tapes). As a result, Elektra released its own LP (in "Panoramic Stereo") in what was probably an ill-conceived plan to duplicate Vanguard's rocketing sales on their Newport releases. A grumpy Moe Asch of Folkways records decides the other labels are sticking to those he terms "the crowd pleasers", and so he opts to issue two LPs of what he considers the more traditional performers from the 1959-60 festivals. Though that year the sun shone brightly all across this great, wide festival, Wein and Grossman took another bath, which -- following riots that year by overzealous louts at their now heavily-commercialized Jazz Festival -- bankrupted their corporation, and temporarily ended both festivals.
Though Grossman shortly was to strike out on his own, following his interests in the popular scene (and folk music at the time
was
the popular scene), jazz-fan Wein gradually returned to his Jazz Festival. In

1962
, largely through the efforts of Pete Seeger and Theodore Bikel, Wein agreed to restart the folk festival, albeit this time as an
intentionally
nonprofit affair, to be run by the newly formed Newport Folk Foundation. Again according to
Sing Out
's article the Foundation was to have two functions : " First, to present folk music in a situation free of the usual economic necessities, and second, to help preserve the traditions upon which the current revival are based". In other words, to water the plant without rotting the roots - promoting a folk music balanced between big names and home grown talent without one burying the other and without anyone going broke again. They intended to plow the profits back into rescuing America's folk traditions : performers, regardless of commercial stature, were to be paid $50 a day (although Bikel says in his autobiography that it was $54), plus transportation, food and lodging ( many of the bigger names handed back their pay and paid their own expenses). The money earned by the festival would go not only to paying to produce the festival, but also to research, to grants and donations to fund and encourage local folk music activities nationwide, and occasionally for something with immediate results, like buying a guitar for Mississippi John Hurt.
The

1963
Newport Folk Festival (July 26th-28th) was now spread between evening concerts at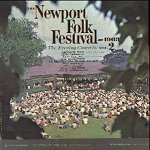 Freebody Park and all-day workshops held in small grass fields behind the buildings at St. Michael's School, just a bit down Memorial Blvd. from Freebody Park. Featuring over 100 performers in a dazzling crisscrossing of 21 workshops and three evening concerts, the Friday night concert featured not only the first appearance of my 9th grade Latin teacher's daughter, Raun MacKinnon, but also the first festival appearance of Bob Dylan (and both again at the Saturday morning Ballad Workshop). Vanguard issued six LPs, including thematically-arranged anthologies from the workshops - topical songs, blues, country music and bluegrass were added to two collections from the evening performances. Per the same
Sing Out!
article (as are all stats to follow) about 45,000 people had attended, earning net profits of $52,000. A splendid time was guaranteed for all - before, during and after.
By

1964
, folk music -- originally thought to be a pure alternative to a rock music dulled by corporations and tainted by payola - a soulless, dishonest music responded to by amateurs playing their own instruments and making their own joyful noise - was no longer seen as anti-commercial, or even noncommercial, by audience and performers alike. The performers had become aware that, instead of just being a better gig than the saltmines, they could
actually make a living
at being a Folk Musician, a rippling roar not totally unheard by record companies and instrument makers. 1964 would be the year the older, more traditional musicians sensed the dreaded heat of Ambition sparking more fires than the passion for enthnomusical purity and unbroken traditions among the hunter-gatherers, though it was also the year they proudly saw social justice and politics take a front seat, albeit in a Corvette.
The '64 Festival was held in Freebody Park and St. Michael's again, from July 23rd to the 26th. Dylan was back, way over 100 performers wandered between the 13 workshops and 6 concerts, and the curiously commercial concept of Headliners came into play at a festival where all performers had previously been equal. Expenses doubled, with the artists' costs ballooning to over double, and net profits dropping to $27,000, but attendance rising to 64,000. Vanguard womped out seven albums -- two blues, two traditional, and three evening concerts. And yet. Though nobody knew why exactly, things seemed to be turning into that which Monty Python later described as something that's "brown and sounds like a bell."
But for this web site, we can zoom in on the fact that Joan Baez canaried her cadenzas at four different times spread over two days, three workshops, and one concert -- and somewhere in the process, she premiered "Birmingham Sunday", an understated ballad about the previous year's racially motivated Birmingham, Alabama church bombing that resulted in the deaths of four African-American girls (and only after almost 40 years, is a trial set that might reach a conviction). The song came with a melody borrowed (as was a well criticized norm during the era of the Folk Revival, though an honorable, traditional folk norm most other eras), from - among others - "The Trees They Grow High", and/or the old Scottish "I Once Loved A Lass" - but words inventively written by Joan's brother-in-law, Richard Fariña, who was driving cross-country with his friend Alfredo Dopico. Mimi, on the other hand, was keeping her sister Joan company at the festival (in the 1966 documentary Festival Joan is shown at St. Michael's School grounds, fighting off a friendly mob of autograph seekers , when she looks off to her right and asks , "Hey, is my sister okay? She's very little...") .
The

1965
Newport Folk Festival was Folk Judgment Day : almost anybody who'd been somebody prior to then was about to sink peacefully beneath the waves of popular music, (now blessed with what was labeled, and co-opted as "folk-rock"), or return to the smell of roasting careers on the small club circuit; anybody who was able to surf the wave was about to change their swimsuit in motion; a very few were about to not only hang-ten and walk the board, they were about to ride it halfway up the beach.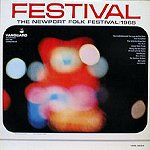 But the festival would never recover.
The 1965 Festival brochure that year promised "4 Evening concerts," along with workshops and panels, with the whole weekend yours for about $30, assuming you made the rounds of workshops ( $2 got you into the entire day's workshops ), hit both the morning and afternoon concerts on Sunday (@ $2 each) and got the expensive ($5.50) boxed seats at the evening concerts. You had access to 26 workshops, 4 evening concerts (as promised), and on Sunday, one morning concert, and one afternoon concert (plus the evening's concert). You could watch Joan Baez , still blanched from the Dylan tour filmed for the Don't Look Back documentary, and not eager to renew his personal society, so instead, pop up on stage with Donovan. You could watch Bob Dylan shock and stun the people in his audience, who, though His True-Blue Best Fans, were still able to pretend they hadn't bought his last album, nor listened to Top Ten radio, nor read anything in the press for the past year, when he told his contemporaries on Sunday night that following your own muse was allowed. And you could see Dick and Mimi Fariña ride out three miles of bad beach and leave their audience both drained and filled. For once, the audience got soaked, and would have gladly paid to do it again.
Attendance rose to 71,000, but artists' costs hit the $65,000 mark, administrative costs at $40,000 matching the amount the Foundation was to give away in grants and donations. While total income had almost doubled since 1963, to $267,000, expenses had almost tripled, and net profit, at $23,000, fell to less than half. Vanguard finally gave up the ghost on their LP project, issuing one album, promising more, but shutting down operations before it was too late.
It was the best of times, it was the worst of times....