1966
15 February - Dick and Mimi fly from San Francisco to New York City, and take up east coast
residency for the next six weeks, living in Cambridge and subletting from Tom Rush on Putnam Ave.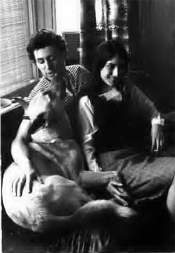 Dick and Mimi living high (2nd floor) on Putnam Street with Lush, their German shepherd - Dick wears the same shirt he had on at Newport, pictured in the Dave Gahr photo on the back cover of Memories . It's obvious "get down off the couch!" was not vocabulary in this household. photo, January/February, 1966 by Dick Waterman
18-20 February -
Dick and Mimi do club dates on the east coast, including this three nighter at The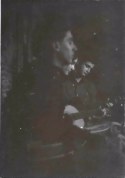 Main Point, in Bryn Mawr, PA - it snows and the audience turnout is effected, but the intrepid future rock critic Paul Williams shows up, handing Dick a copy of the just-released
Pack Up Your Sorrows
single to autograph. Dick remarks he didn't even know it had been released. After the second show, the Fariñas head into nearby Philadelphia to sit for an interview and perform song requests with local folk dj, Gene Shay, on his long-running Folklore program on WHAT-FM. It is recorded and several years later is the only tape missing from his library ("And it was a good one too, as I remember", he says).
Club 47, Cambridge, Mass., Feb. '66 with Geoffrey Muldaur - photo by Dick Waterman
Mid-February - Dick and Mimi tape an appearance in NYC for Pete Seeger's Rainbow Quest program. It airs 26 February in its home town, so must have been taped between the 20th, when they left Philadelphia and the 26th, when it aired.
26 February - The Fariñas perform at Boston War Memorial for the Boston Winterfest, in what is billed as a "Folk Battle." This oddity pits Dick, Mimi, Phil Ochs, Tom Paxton and just about everyone else on the bill against an ill-scheduled Staff Sgt. Barry Sadler, whose hymn to the Green Berets had just made number 1 the week before. It would hold this position for an unnerving 5 weeks. Sadler performs 4 songs and the war drags on...
March, 1966 -
Dick and Joan Baez get together when Dick talks her into recording a whole album's worth of

rock and roll songs. They do various press interviews on the subject, causing an uproar that the Queen of Folk is being corrupted. Dick is to produce, arrange, conduct and heavily influence the project, using Grady Martin to work out some arrangements. Vanguard head Maynard Solomon has quiet apoplexy over the prospect of his top act sinking her own ship and rushes Trade Martin, ace studio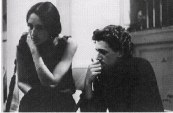 arranger, into the proceedings to try and salvage things; Grady Martin has since testified that Fariña seemed to know exactly what he was doing, what he wanted and how to get it in the studio. The album, recorded in the last two weeks of March at Dick's apparent favorite studio, Olmsted in New York City, reportedly features 3 songs by Fariña ("Pack up your sorrows", "Swallow song", "All the world has gone by"), five by Burt Bacharach (including "Anyone who had a heart" and "What the world needs now"), two by Dylan and one by Paul Simon ("Sounds of silence") and a Van Morrison ("Brown-eyed girl"), but is dropped after Dick's demise and Baez herself spends several years explaining why she was never crazy about the idea in the first place (" the criticism should be ghastly", and later said " I still cringe when I hear some of them").
13 March -
Dick and Mimi join Joan Baez on stage (" and I hope they won't steal the
whole
show") after intermission at
Philharmonic Hall
in NYC, for five songs, which is privately recorded : they play accompaniment to two of Joan's songs and then are given the stage to perform
House Un-American Blues Activity Dream
and
Pack Up Your Sorrows,
then joining in while Joan sings "te Ador"
.
Dick gives his usual rambling intro to their first song : ".... a couple of years ago, we heard about a guy who was having a lotta trouble with his mind. During election year, he was confusing the presidential candidates: he was seeing in his mind's eye Barry Goldwater with Lyndon Johnson's ears - surrounded by two or three battalions of SPARs and WAVEs carrying chocolate-covered donuts. Very irrational combinations of things. And he took a vacation. He was very poor and the only place to go was Cuba, because they were giving away free trips," (laughter), " And he was a pacifist and he heard there was going to be a war on poverty and he needed some time in the sun" (more laughter). "So he went down there, and while he was there, he checked in at American Express and there was a note from the House Un-American Activities Committee, which said 'C'mon home, son! ' in so many words, and he did. And when he was testifying in Washington, he was dragged off the stand by a member of the American Nazi Party. That's a true story, I read that in the New York Times! That happened! And when he was in the hospital, he was cited for contempt of court" (big laughter). "Along with everybody else, he thought it was kind of funny. And so, this is a song about that, and we'd like to dedicate it to the memory of Barry Goldwater. And you're free to dance if you want - it's a waltz and it's called : House Un-American blues activity dream". The song was played at a volume of 11, with Joan playing along and singing, while Dick sang and stretched words all around the melody. After thunderous applause, Mimi can be heard asking Joan about the apparent departure of another, unknown, woman from the stage - "Joan?" she asks, "She gone?" To which Joan says "yeah." "Bitch!" says Mimi. Dick next introduced "Pack up your sorrows" by explaining " Mimi and Joannie have another sister, Pauline, and I worked with her on this next song. Like to dedicate IT to the memory of Staff Sargeant Barry Sadler .... And you can help out on the chorus, but not on the verses.... unless you've got your Green Beret with you !" He comes back after a chorus to invite the audience, at least those without a Green Beret to do it for them, to sing along. " That's 'If someHOW you could pack up your sorrows, and give them all to me,
you
would lose them,
I
know how to use them, give them all to me - ' ; we'll play it a little bit slower - it's a kind of contemporary masochistic attitude .... Try it once with us - ". Though the tape is very bad quality and was edited during the performance, it's clear that after a tune-up, the Fariñas performed at least one more song, "te Ador", with Joan, and then vanish from the tape.
Early April -
The Fariñas return to California to get ready for the publication of Dick's novel,
Been down so long it looks like up to me.
According to Hajdu and folklore, they fight constantly and things are tense

. Judy Collins
Songbook
says that Dick was encouraging Mimi to branch out and do things on her own at this point - to become more independent, following her training in dance and learning to drive. But Mimi also saw this, in her interviews with Hajdu, as Dick trying to get rid of her, trying to move her away from his areas of life. As always, anything Dick did can and was interpreted positively and negatively, depending on the personal view and background of his audience.
Dick and Mimi in Carmel, California , April 1966 ; photo by Jim Marshall from the booklet to Joan Baez' First 10 Years album
15-17 April
-
Fariñas appear at the 5th annual San Francisco College Folk Festival , along with old friends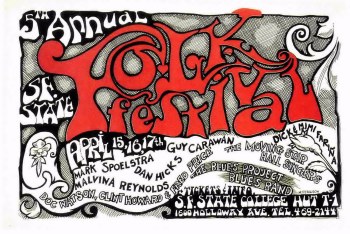 Mark Spoelstra and Al Kooper (with the Blues Project), Newport '65 veterans The Moving Star Hall Singers, the always excellent Malvina Reynolds, Doc Watson, Guy Carawan and a solo Dan Hicks!
The addition of the blatantly rock-oriented Blues Project was a sign of the shift in what was considered folk. That year's Berkeley Folk Festival, beset by monetary and attendence problems in 1965, features, in addition to Pete Seeger, Malvina Reynolds and Robert Pete Williams, the recently formed Jefferson Airplane (just signed to RCA) and Country Joe and the Fish. The short-lived Folk-Rock genre was about to take its politics and lyrics and mutate into the Underground.
April - mid-to-late : Random House throws a publication party for Dick in their office at 457 Madison Ave. in New York City. Dick insists there be music and dancing, and enlists his friends, the Chambers Brothers, as the house band.
19 April - Been Down So Long It Looks Like UpTo Me, the novel the novel Fariña had worked on since 1960, is copyrighted.
28 April -

Been Down So Long It Looks Like Up To Me
,
is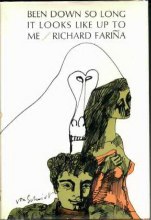 published by Random House - this was the reported date anyway - books usually have official publication dates, though it's usually an arbitrary day, standard for that month's releases: shipping dates usually determine the first availability of the book. (First editions of the novel have "4/2/66" printed on the dust jacket's front flap, supposedly indicating a possible earlier pub date, but more likely just what's known as a first edition "point" for later rare booksellers to fight over.) This date also marks another batch of copyrights suddenly passing through the Library of Congress, giving this backlog 's sudden movement what's known as the "pig-in-the-python syndrome", with five titles emerging : "Hard loving loser", "House un-American blues activity dream", "Sell-out agitation waltz", "Bold marauder", and "Children of darkness", all from Reflections in a Crystal Wind.
Copyright registered for "Reflections in a crystal wind".
30 April -
Mimi's 21st birthday. The Fariñas are scheduled for an outdoor book signing at the Thunderbird Bookshop, the hometown bookseller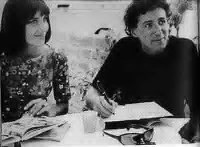 in Carmel, owned by Jim Smith, then inhabiting a coverted hay barn (relocated in the 70s to The Barnyard). Dick signs dozens of copies ("Zoom! Richard Fariña") of the just published
Been Down So Long
. After the signing, they head for a birthday party secretly arranged for Mimi by Dick at Mimi's sister Pauline's nearby house. During the party, Dick spots a Harley-Davidson parked outside, finds the owner, and always looking for kicks, asks for a spin. He does not survive the crash. Hajdu relates that over a week later, Mimi finally returns to their cottage to find Dick had left her a birthday card, now-wilted orange roses and a pair of shoes she'd spotted on an earlier shopping expedition...
Photo: last one - Thunderbird Bookshop, Carmel, mid-afternoon, 30 April, 1966. Dick is wearing the gold braclet given to him by Joan Baez (bottom right). Photo was used by a local paper, probably the Carmel Pinecone, in their weekly issue, first week of May, along with an article on the accident and death of Richard Fariña
1 May - Scheduled second book signing at the Discovery Bookshop in San Franscisco, several doors
and an alleyway downhill from City Lights Books. A black and white reproduction of the original orange poster is later used on the back of the posthumously released
Memories
album.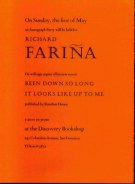 June - Mimi moves into an apartment on Alta Street in the Telephone Hill section of San Francisco.
2 June - "Dopico" and "Crysanthemum" are copyrighted.
13 September - Mimi finally registers her arrangement of "Dog Blue".
15 December -"Miles", the first song with Mimi credited as writer, is copyrighted. An instrumental, it is copyrighted with music by Mimi, but also with unrecorded lyrics by Dick. Mimi also copyrights her composition, "Hamish" , from the 1st album.